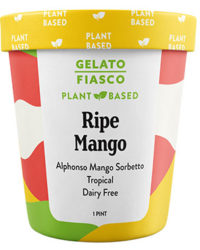 Back in the 17th century, when mangoes were first imported to the American colonies, they were pickled. Had to be. No refrigeration. We turn fragrant ripe mangoes into one of the world's most seductive sorbetto flavors. No contest.
Made with pure ripe Alphonso mangoes.
Ripe Mango Sorbetto won the 2016 sofi Award from the Specialty Food Association for Outstanding Ice Cream, Gelato, or Frozen Treat. It was also featured in the August 2015 issue of O: The Oprah Magazine as an editors' pick.