News
Our Brunswick and Old Port stores are open late every day this fall. Read more.
Visit shop.gelatofiasco.com for nationwide shipping of 6-packs of pints. Read more.
Order online for pickup in Brunswick or the Old Port. Read more.
We searched and sought, but we could not find the perfect gelato. The centuries-old secrets of the Italian masters had been lost! Knowing that gelato should be magnificent, we set out to rediscover those Old World techniques and create a new standard of quality and taste with our own inspiration, ingredients, and creativity.
GELATO FIASCO IS THE RESULT OF OUR QUEST.
Inspired by Italy. Perfected in Maine.
Here's how:
The Maine Way
Here in Maine, we're a little bit stubborn about perfection.
It's about an insistence to combine time-tested techniques with new ideas and inspiration to keep on creating, keep on improving, inch by inch, until it's just right. Humbled by the natural world that surrounds us always, we craft good things that last. Or at least until you finish every last spoonful.
Only the Best Ingredients
To make great gelato and sorbetto, we use good ingredients.
It tastes better because it is better. Here's our list of ingredient standards for our grocery store pints.
Explore our Stores
One goal: delight each and every customer.
Discover amazing desserts and coffees. Flavors are made fresh from our growing collection of more than 1,500 recipes.
Visualizing the future that would come, we called it the Flagship Store even when we had only one store. Our birthplace is home to Bowdoin College, an oddly significant amount of Civil War history, and beautiful coastline. The Flagship Store is within walking distance of the Bowdoin College Museum of Art, the Amtrak station, and dozens of excellent small restaurants and eclectic retail stores.
(207) 607-4262
74 Maine Street, Brunswick, Maine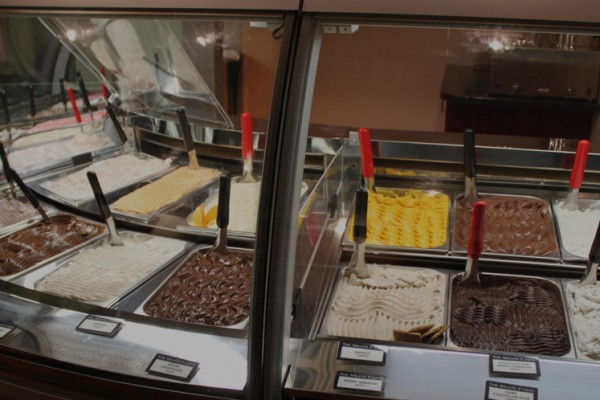 Nestled in the historic Old Port district just a block from Casco Bay, we've planted our spoon in Maine's biggest little city. Boutique shopping, fantastic restaurants, and bars of varying degrees of respectability are all steps away. Named Portland's Best Ice Cream by readers of the Portland Phoenix for seven consecutive years.
(207) 699-4314
425 Fore Street, Portland, Maine
All stores feature:
God of Thunder coffee bars
Indoor seating
Board games
Options for special diets